A Birthday Drink Kara Style: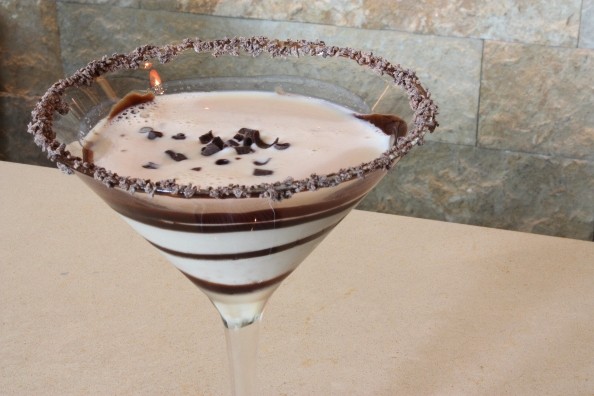 Cinnamon Creme
5 oz. Bailey's Irish Cream
.5 oz. Goldschlager
.5 oz. butterscotch schnapps
Chocolate syrup swirl
Rim of chocolate syrup and shaved chocolate
Garnish with shaved chocolate
This is a rich, luxurious drink, meant to sipped slowly. With a base of Baily's Irish Cream, it's perfect for satisfying a holiday-inspired sweet tooth. The Goldschlager will give the mix a heady kick of cinnamon, while the butterscotch schnapps rounds and mellows the mixture. For the rim, coat the edge of the glass in chocolate syrup (Lacs uses Hershey's), and then dip on into a layer of shaved chocolate. For the chocolate swirl, simply layer a spiral of chocolate syrup in the martini glass before before pouring in the cocktail.
An of course the cake, serves 6 unless its maltie then its serve's one.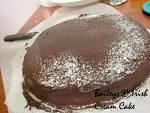 Baileyís Irish Cream Cake (Serves 16)
CAKE:
1/4 cup cornflour
1 3/4 cups all-purpose flour (i.e. plain flour)
2 teaspoons baking powder
115g butter, at room temperature
1 cup sugar
3 eggs, at room temperature
4 ounces bitter-sweet chocolate, minimum 55% cocoa, melted
1 cup Baileys Irish Cream Caramel liqueur
1/2 cup milk
BAILEYS SOUR CREAM GANACHE:
6 ounces bitter-sweet chocolate, minimum 55% but not more than 65%
7 ounces light sour cream, at room temperature
1 tablespoon Baileys Irish Cream Caramel liqueur
Modifications I made (refer to website):
I replaced cake flour with a mixture of cornflour and all-purpose flour
I reduced sugar to 1 cup - 2 cups is awfully disgusting >_<
I only have Baileys Irish Cream Caramel, I just substituted it (Iím sure thereís no harm)
I used regular butter (meaning salted butter) - therefore I omitted the salt (If you used unsalted butter, remember to sift 1/2 teaspoon of salt with the flours)
I omitted the vanilla because I wanted the true taste of Baileys
I omitted the nuts as I donít have and I donít like nuts in cakes
For milk I used full-cream milk
I used light sour cream as thatís the only one that I have on hand
Method:
Preheat oven to 175 degrees Celsius. Grease either a 9 x 13-inch pan or one 9-inch round spring-form pan. (I used the round spring-form pan)
Sift cornflour, all-purpose flour and baking powder in a bowl. Set aside.
Using a mixer, cream butter and sugar for 3-4 minutes on medium speed. Scrap the bowl and beat on high speed for 1minute. Add in eggs, one at a time, beating at medium speed for 1minute after each addition and scrape the bowl before adding another. Operating at low speed, mix in melted chocolate.
Using a spatula or metal spoon, fold in flour mixture and Baileys alternately, making sure there a re no lumps in the cake. Transfer the batter to the cake pan, smoothing the top.
Bake for 45minutes, or until the top of the cake springs back when touched and a satay stick / skewer inserted to the centre of the cake comes out clean. Transfer the cake pan onto a rack to cool completely.
Meanwhile, make the Baileys Sour Cream Ganache. Chop chocolate and place the chopped pieces in a heat-proof bowl. Heat one inch of water in a pot until it is simmering. Reduce heat to low and place the bowl of chocolate over the heat, ensuring that the water does not touch the bowl. Stir frequently using a wooden spoon, until all the chocolate has melted. Remove from heat and let cool slightly.
Vigorously whisk in sour cream until mixture is thick and spreadable. Stir in liqueur. Set aside.
Remove cake from cake pan and split it into half horizontally. Sandwich the cake with a thin layer of ganache and spread the ganache over the top and sides of cake. Refrigerate till set.
Just before serving, dust the cake with icing sugar.
Iíve made this recipe twice. The first time without the ganache and it turned out to be dense and itís pretty bad, probably due to lack of beating. This time round I really beat the cake and it turned out to be softer and lighter. Still a little bit moist but you can really taste the liqueur and I like it. Donít worry about getting drunk, all the alcohol would have evaporated during the baking.
I actually used 12 ounces of chocolate and 14 ounces of sour cream to make the ganache and it is too much in quantity. I froze the leftover ganache as it can be froze for up to 6months. The ganache is great as it is not sweet but not too sour either. It is thick and rich and it is extremely easy to make - only 3 ingredients! The ganache is definitely very versatile, you can easily flavour with other liqueur instead of Baileys. I would definitely not recommend using chocolate with too high of a cocoa content as it may result in a bitter ganache (which will taste horribly wrong).
In all, this is definitely not a difficult recipe to make and I highly recommend it to people who loves liqueur.